Information
More Information
Panasonic KX-NS700
Panasonic NS700 Phone System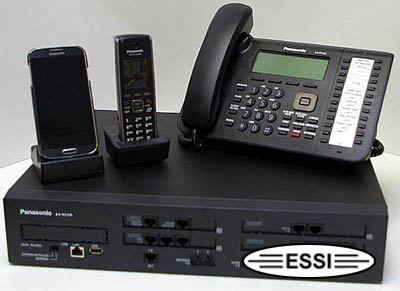 Small Systems at 3 Lines in X 10 Phones
Expansion to 64 Digital Phones + XDP
Free Phone System Programming Included
128 IP Phones and 64 SIP Trunks
Cordless Phone Capabilities
Mobile Phone Capable
VoIP and SIP Compatible
Affordable Feature Licensing
Hotel Motel Features Available
Voice Mail to Email - Call Assistant
I am sure we are all aware that Panasonic has been a leader in the phone system industry since the very beginning. We are proud to announce the all new Panasonic NS700 is on it's way and expected to arrive in the US in February 2015!
The new Panasonic system will support all the same phones and IP phone as the earlier model KX-TDA and TDE systems plus the new KX-DT and NT IP 500 series phones.
Expansion Capabilities
The NS700 is a great choice for small business although with the expansion key installed a maximum of 128 IP extensions, 24 Analog CO's, 92 PRI channels, 64 IP trunks, a maximum of 130 digital phones and a maximum of 132 single line phones can be connected. Maximum capacity is available with up to 3 expansion cabinets installed.
New Features Include: Web Programming via a Web Browser, Programming Wizards, Automatic Call Recording, Integrated Voice Mail.
Panasonic Phones
All of the phones Panasonic has manufactured for years will be compatible with the Panasonic NS700 making it easy to upgrade your existing Panasonic Phone System to a the NS700.
---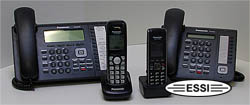 Available in a Digital and IP model. When the IP licenses are enabled the IP phones can be the most affordable option if done right with the addition of a POE switch.
We have 2 24-button models available, one available with a large display and another with a standard display. We have an 8 button model available for smaller systems of work stations such as a warehouse with the needs of less features.
---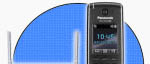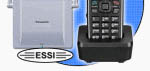 We have three different model cordless phones available for the NS700 that use the proprietary Panasonic Cordless Cell System. The first cordless phone is the standard model that does not have the vibrate feature. The second model works the same as all the later model 2.5 Ghz and the Dect 6 cordless phones, the most notable difference is it has the vibrate feature enabled. The last is the rugged duty cordless phone that can take more of a beating.
Support
Free Remote Programming + Lifetime User Support
All new Panasonic NS700 phone systems with phone sold at ESSI include free remote phone system programming with 60 days of updates plus lifetime user support. Note: we have been in business serving the entire US with excellent customer support since 2001.
Installation Support Included
The NS700 interfaces with your existing wiring easily with the all so popular RJ45 patch cables. This makes installation much easier for the computer technician or do-it your-serfer to wire in the system. Once the system is wired in, we take it from there with our free programming and end user support.
CO Line Cards
Available in a 6 port CO Card and a 23 Channel PRI ISDN Card. The SIP trunking protocol is also available
Station Cards
We have a 4-Port Panasonic Hybrid card, an 8-port and 16-port digital station card, analog station cards, and IP phones are enables with the use of licensing, IP hardware is not necessary.
---
Feature Licensing
Voice Mail
Advanced Voice Mail
Voice Mail Port Expansion
Voice Mail to Email Integration
Conversation Recording
Phone and VoIP Licensing
Panasonic IP Soft Phone
SIP Trunking
SIP Extension
Standard IP Phone
Mobile Phone
Communication Assistant
Basic Communication Assistant (Included)
Pro Communication Assistant
Operator Communication Assistant
QSIG Communication Assistant
Networking
Q-SIG Networking
Onelook Networking
Hotel Motel Capable
---
Request a Quote
Our prices are well bellow Panasonic MSRP. So low Panasonic will not allow us to publish our pricing.

Panasonic KX-NS700 Digital Phone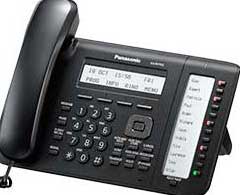 Panasonic KX-NS700 IP Phones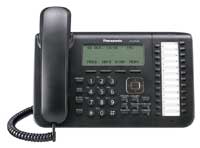 Panasonic KX-NS700 Phones

Panasonic KX-NS700 Programming


Panasonic NS700 Advance Features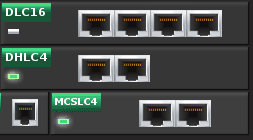 Panasonic NS700 Expansion Cards
New Products For August - Panasonic KX-NS700
Your IP Address is: 18.204.55.168