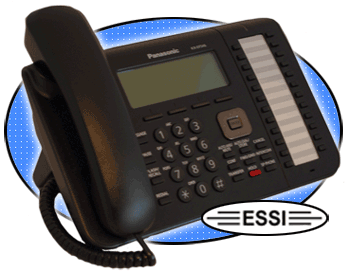 All the phones listed below are digital phones available for the Panasonic KX-TDA50/100/200/600, The KX-TDE100/200/600, KX-NCP500/1000, the KX-NS100 and the KX-NS700 phone systems
The phones listed below require a digital station port to function.
The latest model digital phones available for the nower model Panasonic Digital Phones Systems. Phones include an 8-Button Phone 2) 24-Button Phones, a 12-Button Add ON Module, and a 60-Button DSS Console.
---
Replaced by the new DT300 Phones. These phones consisted of 3) very popular 24-button phones, an entry level 8-button phone an addon module with 12-buttons, and an operators console with 60-buttons.
---
last but not least are the T7600 series phones. These phones were intrucuced with the KX-TDA model phone systems. These phones are a 12-button phone a 24 button non display phone, 3) 24 button display phones, a 60-button console, and a 12 button module.
These phones are not compatible with the Panasonic KX-TD308/816/ and the 1232
These phones listed have what is known as an DXDP port. The DXDP port will allow the connection of a second Digital Phone connected to the back of a Panasonic Digital Phone connected to the main unit.Phones connected to what is known a a DHLC port will allow an analog phone to be connected to the back of a Panasonic Digital Phone connected to the main unit. This is a great solution for an associate that needs a cordless phone.
Standard buttons include: Conference, Forward / Do Not Disturb, Pause, Intercom, Auto Answer, Auto Dial, Message Key, Redial Key, Transfer, Flash Recall, Hold, Four Softkeys, and a Speaker Phone Button plus 24 Programmable Buttons.
Circular button for scrolling, volume, and contract adjustments.
Backlit Display for Caller ID and ease of use for many functions with the use of the four Softkeys and the circular scrolling button.