Panasonic KX-TA824 Voice Mail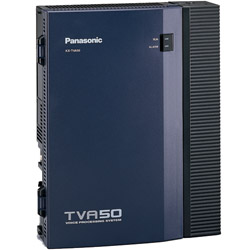 KX-TVA50 Technical Specifications
Panasonic KX-TVA50 Voice Mail
The TVA50 starts out at a 2-port X 4-hour voice mail expandable to 6-ports X 8 hours of storage. With the addition of the KX-TVA Lan Card voice mail messages can be sent to email and the voice mail is programmable through an ethernet network port via a PC.
Popular Voice Mail Features
Automated Attendant
Allows multiple business to share the same phone and voice mail system.
Email Notification
Provides the ability of sending email messages to a single email address per mailbox.
Holiday Attendant
Provides the ability to play a holiday auto attendant greeting on holidays
Message waiting Notification
When a Voice Mail arrives users can be notified several different ways that they have a new voice mail either by the message waiting light on a proprietary telephone, by pager notification through a cell phone, or by email.
Personal Message Length
Up to 360 seconds
Number of Mail Boxes and Storage Space
KX-TVA50 Maximum 64 boxes with storage space of up to 4 hours and expandable to 8 hours.
Computer PC Programming
The Panasonic KX-TVA can be programmed through either a USB port or an ethernet network port.
Mailbox Name and Password
Provides a user to set a password for security purposes when retrieval of voice mails from the outside is enabled.
Time and Date Stamp
Allows the users to hear the time and date when messages have been left. Voice mail sent to email will have the time date stamped in to the email header depending on email client.
These are some of the most popular features of the Panasonic KX-TVA50 Voice Mail system. If you are interested in receiving more information on this voice mail please contact us