Panasonic KX-TA1232
Advanced Hybrid Telephone System
Replace this phone system with the Panasonic KX-TD1232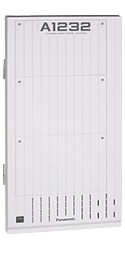 System Specs
This webpage provides useful information affordable pricing, and online sales of the Panasonic KX-TA1232 Phone System.
The KX-TA1232 is initially configured for 8 central office lines and 16 stations. It can expand up to 12 central office lines and 32 stations with the addition of plug-in card models KX-TA123260 and KX-TA123270.
You have a thriving home business, two kids who love to talk on the phone, three telephone lines; two computers, two answering machines and a fax machine. Needless to say, the lines of communication in your home are quite complex.
Enter a Panasonic Advanced Hybrid System. Expressly designed to streamline home communications, an Advanced Hybrid System organizes your phone lines into a cohesive system and makes a host of advanced features available to each extension in your home.
With an Advanced Hybrid System all of your residential, home office and fax lines can be accessed from any system phone jack. You can assign specific lines to each phone, make room-to-room intercom calls, forward your calls to an outside location, monitor a room, page all system extensions and more.
Direct Inward System Access (DISA) with Outgoing Message & Fax Detection: If several family members share one telephone line, an optional DISA OGM/FAX Detection Card is a wise choice because it enables outside callers to reach their intended party directly. The caller will hear a message instructing them to dial a single-digit code for the desired party. The caller is then routed to that person's extension automatically. With this option, each family member can field their own calls and have their own answering machines, even though they share the same line!
A DISA card also enables you to call into the system from outside your home and utilize one of the system's lines to make calls. This feature can be helpful when you need to make calls from a client's office or are using a cellular phone.
By adding an optional Panasonic KX-TVS Series Voice Processing System, you can enjoy automated attendant service, individual voice-mail boxes and more—without expensive software or hardware upgrades. With all of these choices, it's easy to custom-design a system that's just right for you.

Room-to-Room Intercom & Paging

Name & Number Call Waiting Caller ID—System display phones can show the name and number of an incoming caller, even if you''re on another call. The system will log up to 20 unanswered calls per extension and up to 300 calls system-wide, making it easy for you to return missed calls.

Off-Premises Call Forwarding—Simply program the system to forward your calls to an outside telephone number or to your cellular phone and you can answer your calls wherever you go.

Optional Door Intercom/Opener

Optional Cordless Phone & Voice Mail Integration

Flexible Line Buttons—You can use the central office (CO) line buttons on each proprietary telephone to access a CO line or you can program them for one-touch operation of system features like intercom calling, speed dialing or paging.

Single-Line Device Integration—Allows you to connect to many types of single-line telephone devices such as answering machines, cordless phones, fax machines and computer modems, without the need for additional cards or modules.

8 central office lines and 16 stations